Nothing beats homeschooling :]
I am daily thankful for the decision my parents made when I was in second grade, to take my sister and I out of a private school and homeschool us all the way through till graduation! There were/are so many blessings associated with being homeschooled that it is hard to choose one thing that stands out in my memory as something that was unique to being homeschooled - something that your average kid would not have been able to do.
I guess I'll go with the memory of training alpacas :]
I have to preface this story by saying that my sister and I were involved in 4-H animal husbandry as soon as we were able to join (8 years old). We started out with horses and stayed with them until 2002 right after I turned 12.
It was a beautiful New England fall day. You know, the one where your just entering fall and the weather is still warm, but not stifling. I want you to picture a true to form agricultural fair. You can hear the cows mooing as their owners spraying them down, trying to clean them before Fitting & Show; you can hear the announcer down in the infield announcing the placing of the horse show, and you can hear the sheep and goats baahing, waiting for their little trainers to come and feed them. You can smell those fries that you can only find at the fair along with those jumbo donuts that only come around once a year.
So, you can hear & smell, but what can you see? Well, there is the 4-H Ice Cream Parlor where there is always a long line of people waiting to get there frappes, sundaes or just a bowl of hard ice cream. There are the buildings filled with crafts that people have worked on all year and of course there are all the concession buildings selling unique items. But the important thing that you see, is the red and white striped tent. Inside of it is an obstacle course made up of jumps, hula hoops, weave poles, and a kiddie pool. And going through the obstacle course are a couple girls ranging from 9-13 years old, leading their alpacas. They willingly handed over the lead ropes to us to let us play with their animals. We were hooked:]
That October we joined the Jumping Jax Alpaca Trax 4-H Club and leased our first two alpacas, Black Mirage and Ace Ventura. These two boys that had been donated to the club with several other alpacas from a farm in Ohio.
That day at the fair was a turning point in our lives. We have since had up to 12 alpacas, but our numbers have fluctuated over the years and we currently have 11.
However, I want to get back to the point of this post. "What is one thing that we were able to do growing up as homeschoolers that most kids would not have been able to do?"
A month before we joined the 4-H club, our mom took us on a field trip (a plus for homeschooling) to a farm about 50 minutes away. This farm had miniature donkeys, sheep, goats, chickens, turkeys, horses, dogs and guesss what...alpacas. We hit it off with the owner and when she found out we were 4-Hers we clicked even more. (She had been a 4-Her and had raised her kids with 4-H).

A new born cria on the farm :]
 We visited the farm several times, as she had a fiber area where she gave classes on how to use the different fleeces. One of the times we visited we got to talking about the different training classes we had taken with our 4-H club on how to halter train, lead, and gain the alpacas trust. She said that she had to train several crias (baby alpacas) every year to walk on a halter, stand still and allow people to touch them, so that she could bring them to the different breeders shows each season.
~At this point I should mention that alpacas are VERY skittesh animals and it is not their natural instinct to ask for attention, but rather to run away from people.
With all the other things on the farm that kept her busy she didn't have the time to train them and would we be interested in training them? We were shocked and honored! The animals that she was asking us to train were the "cream of the crop" on her farm and would be representing her farm at the shows.
This is where it got exciting. Because we were homeschooled this was a terrific opportunity that we were able to take! If we had gone to a public or private school we would never have been able to accept this offer. We had to plan on two hours of travel time every time we went over and then at least 3 hours training and we had to be over at the farm a couple times a week.
We learned so much about animal husbandry on this farm, as well as business management, and like anyone who spends time with animals, it gave us several opportunities to grow some character.
We worked there for several years training each new year's crias and continuing to work as well with the previous years show animals.

Suri Crias - There are two different breeds of
alpacas. Suri fiber grows in long pencil locks.
 I usually worked with the Suri alpacas. Something about them just drew me to them. They were more skittish then the Huacayas, but once I gained their trust you could see a relationship building. When we would bring them to the show, it would often times be their first time being away from their mom and because I was a familiar face and smell and my voice was familiar, they would cling to me.
God gave us so many opportunities at the shows to be a bright light for Him to so many people. Because there were so few kids there, we were watched all the time and people would comment.
We learned so much at the shows about the alpaca industry, the different businesses and yet there were so many little things we learned (although not little in the grand scheme) like responsibility, respect and using
every
opportunity to reflect Christ.
There were also the lessons that came with traveling, packing, and preparing for these shows. We were taught how to be prepared for anything but to still be frugal.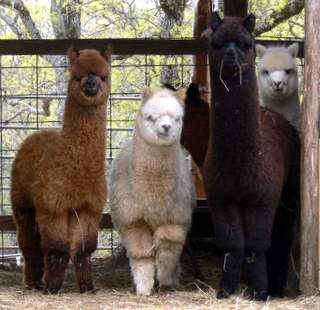 Huacaya Crias - My sister trained these.
There fiber grows straight our like
a teddy bears :]

The life skills that we learned over the years would not have been learned if we had not been homeschooled. The time needed to pursue these activities cannot usually be found with kids who attend a public or private school unless there parents actually own the farm or they live right next door to one.
We learned
so
very much in the 6 years that we did this and I am so thankful for the opportunity that we had and the lessons that we learned. God is good.